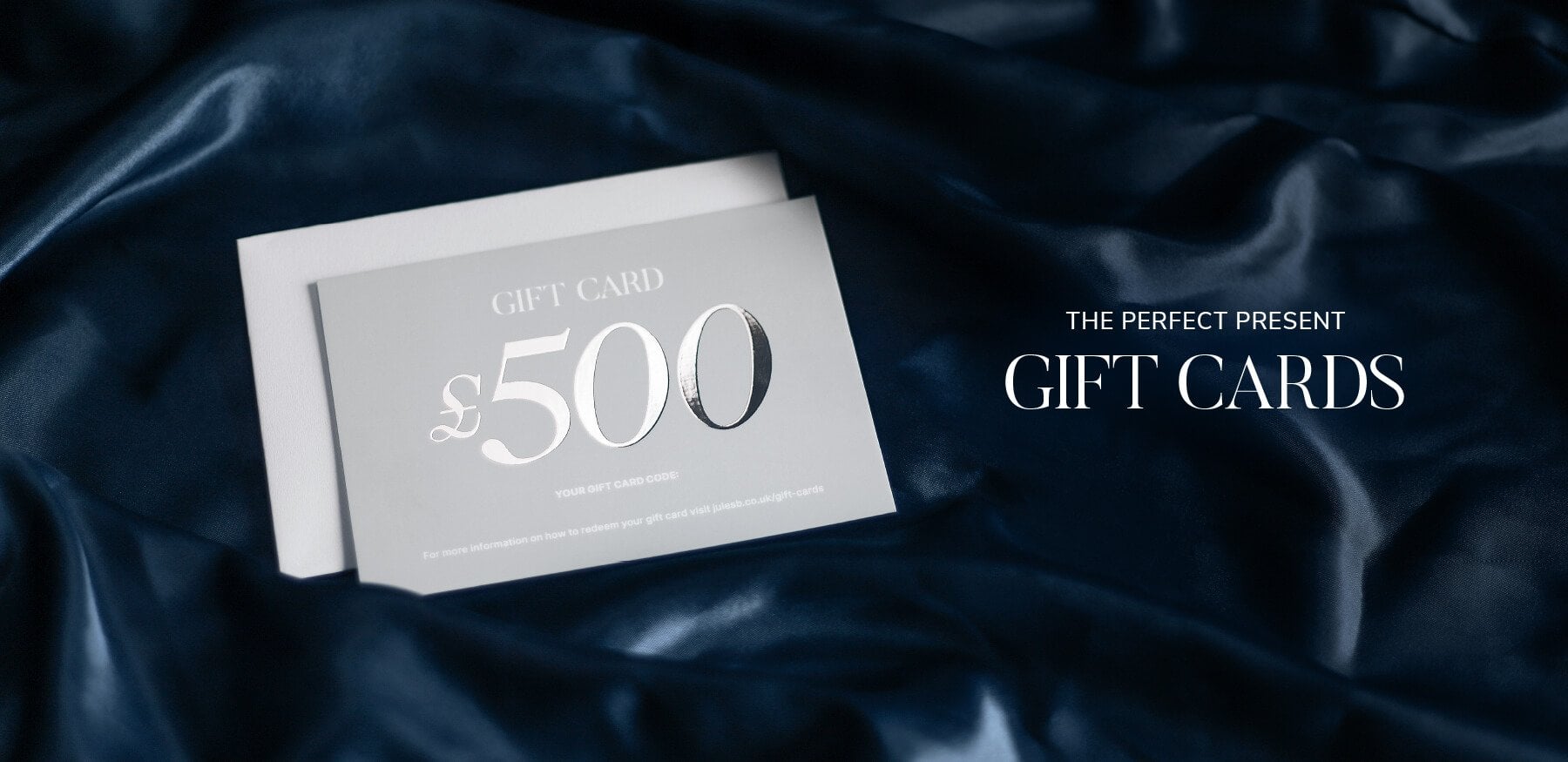 Introducing Jules B Gift Cards: the ideal way to give a gift with over 150+ established and emerging labels across ready-to-wear collections.
Available to spend online or in-store on anything from clothing to accessories, it's the perfect gift to suit anyone.
With values ranging from £50 to £500, the recipient can upgrade their basic wardrobe or treat themselves to a touch of luxury!
FAQs
How do I activate my gift card?
Online use
To redeem a voucher online, the recipient will need to activate their gift card by registering an account with us if they don't already have one.
Once registered, the recipient then needs to contact our customer care team on +44 (0)191 211 2331 and quote the unique number on your receipt you get with your card.
The gift card value will be added to recipient's account, meaning they can spend as little or as much as they want - any remaining value will be kept on the account to spend in the future. If spending more than the value, then the checkout will deduct the card value from the total, with the remaining balance needed to be paid for by the buyer.
Store Use
Just go into any store with the card and receipt to redeem. You are unable to redeem in store without the unique barcode receipt.
Are online and in-store gift cards the same?
Yes. All gift cards purchased can be used online or in-store. An account must be created in order to redeem any voucher online. In-store purchases do not require account creation.
Gift cards can be purchased both online or in one of our shops located in Newcastle-upon-Tyne and Kendal.
Terms & Conditions
Jules B Gift Cards are sold subject to the following terms and conditions:
Online
Jules B Gift Cards are valid for 12 months from the date of purchase. Jules B Gift Cards can be redeemed against all products across the Jules B website. Jules B Gift Cards cannot be returned or refunded and are non-transferable. If your order exceeds your issued credit value, any remaining balance must be paid for by credit or debit card. If you return products you have purchased using a Gift Card, the remaining balance will be added back to your account as credit. Jules B is not responsible if a Gift Card is lost, stolen, destroyed. Jules B reserves the right to cancel a Gift Card if we deem such action necessary.
In-Store
The Jules B Gift Card is redeemable at all Jules B stores. The Jules B Gift Card is not a cheque guarantee, credit or charge card. The Jules B Gift Card cannot be redeemed via telephone / mail-order. If the Jules B Gift Card is not used for a consecutive period of 12 months – whether to make a purchase or to make a balance enquiry – the voucher will automatically expire at the end of that period and the balance on the voucher will be forfeited. When you use the Jules B Gift Card, the amount of your purchase will be deducted from the balance on the transaction. Remaining credit will be reissued as a separate Gift Card. The Jules B Gift Card cannot be redeemed or exchanged for cash. Refunds will not be given for the purchase of a Jules B Gift Card. The Jules B Gift Card is like cash. Lost, stolen or damaged gift cards cannot be replaced, you must retain the receipt contained within the wallet in order to redeem your Gift Card. All refunds of goods and services purchased with the Jules B Gift Card will be made in accordance with the Jules B Refund Policy. This does not affect your statutory rights.
Jules B reserves the right to amend these Terms & Conditions.
Can't find what you're looking for?
Our dedicated and experienced Customer Care team are on-hand and available 5 days a week, Monday - Friday to assist you.
Opening hours: Monday – Friday: 10.00am – 5.00pm (GMT)
E: customercare@julesb.co.uk
T: +44 (0)191 211 2331